P2P Combat Guide

Made by: "Kingx Caspen"

Melee or Combat is one of the very common types of characters in RuneScape. It is very cheap to train when compared to other skills like ranged and magic. It is also very effective in player killing. This guide will teach you how to level to 99 in Attack, Strength, Defense, and Hitpoints.


To start off, you need the right equipment for each level.

Scimitars are the best weapon to level because it is the perfect combination between power and speed. But other weapons such as Granite Mauls, Obby mauls, and Dragon Daggers are effective too. Here are the main weapons and armors associated with each level grouping.


Iron Weapons and Armor – Level 5


Steel Weapons and Armor – Level 10


Black Weapons and Armor – Level 10


Mithril Weapons and Armor – Level 20


Adamant Weapons and Armor – Level 30


Rune Weapons and Armor – Level 40


Brine Sabre (Has better Strength Bonus) – Level 40


Dragon Weapons and Armor – Level 60


Abbysal Whip – Level 70


Barrows Weapons and Armor (Will go into more detail later on) – Level 70


Godswords – Level 70


One of the best training food are Cakes, they heal 12, same as lobsters but are so much cheaper, as of January 29, 2009 they are under 100gp each, while Lobsters cost over 200gp each. The only difference is that cakes take more bites to eat, but if you eat a few cakes once your HP is low, it shouldn't make much of a difference when compared to eating lobsters for training.


For low levels, Salmon is a great training food.



Ok, now, its time to discuss the best places for training for specific levels. I would recommend to do the waterfall quest, if you're a level 3, that would get your attack and strength to 30. It gives 13,750 attack and strength exp so do the math. Its advantageous to train strength up, and then attack.

This guide is going to show you where to train from level 1 to 99.



Levels 1-15



1-15 Chickens in Lumbridge – Use Iron Scimitar, and train strength to 5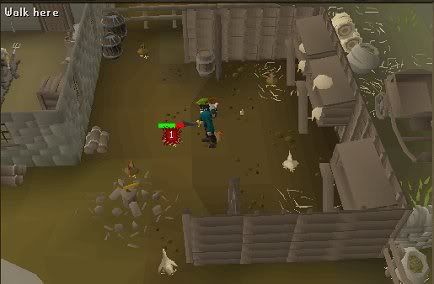 FIRST train strength and then train attack to 5. Use Steel Scimitar as soon as you can use it.

Pick up feathers because they are stack able and you can pick up the raw chicken. You can sell the raw chicken for 64 gp ea, or you can use for them for Summoning.



Levels
15-30



15-30 Cows north of windmill

Pick up cowhide and bones. When you have a full inventory just deposit your loot in the barrels.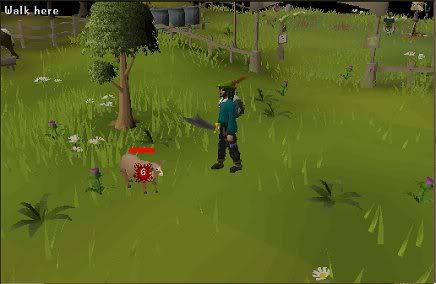 You should have around 30 attack and 30 strength and 30 defense


Levels
30-40



30-40 Al-Kharid warriors, they are level 9 and have 19 hp. They are like bandits, for low levels. If you attack one, they all attack you. These levels will go very fast. Again, use the best scimitar that your attack level can wield.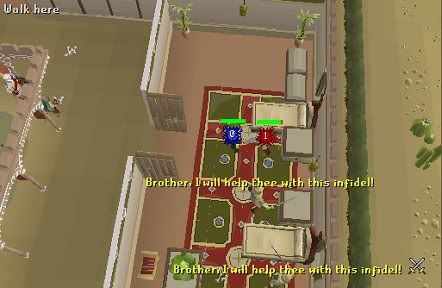 These don't drop anything good. You have to have good food, in order to train here.


Levels
40-60



40-60 You have many options now, you can make some money while you train, or, you can just boost levels as fast as possible.

Option 1 – Flesh Crawlers they are in the security strongholds 2nd floor. They are located in the south-eastern corner of the stage.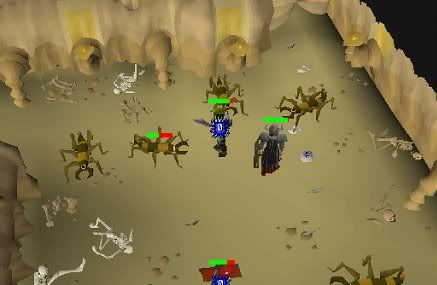 These drop INCREDIBLE stuff and lots of herbs. Pick up, fire runes, noted iron ore. And all the herbs except Tarramin, Harralander, Guam, and marrentill. Everything else is good except, the body runes.

**Trick – Kill a rat, and pick up the bone, and bury it. You will go to a "random" These are aggressive, but after a while, they stop, so when you do a random, you basically leave and come back, so they will be aggressive again. You can only do this once every 1 hour.


Option 2 – Rock crabs north of Relleka, this provides great exp all the way up to the level 70's. You can here till 50 or you can keep going your choice. There will be many cocky pure's here, that will show off there skills and take your crabs, just ignore them or tell them firmly "OFF"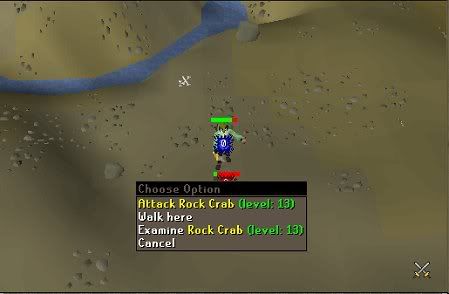 Rock crabs will damage a little bit, but in a few kills, pick up the edible seaweed. If the rock crab doesn't attack you any more, go south a little bit, then come back up, and they should start getting aggressive again.

**Note, you should have done Monkey Madness by now for the Dragon Scimitar, the best weapon for training Strength.


Levels
60-70



60-70 Experiments you must have done priest in peril quest to get there, a part of the Creatures of Frankenstein. These are one of the best places to train, they have 100 hp and are only level 25.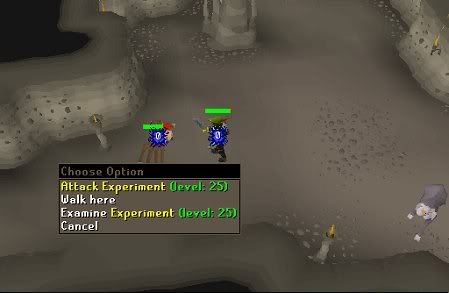 Only attack the level 25's, the spider and sheep's. Don't attack the level 51, they are much stronger and will lower your hp.

Again, you have many options, you can either stay here or you can go back to the flesh crawlers to make money, or rock crabs.

You should have 70 attack, 70 strength, and 70 defense. You can, mix up your level a bit if you want, all the places I showed you so far is places that people with 1 defense can train. You should be able to wield the best weapon and armor you can afford


Levels
70-85



70-85 Again, from 70-85 you have many options. You can go back to the experiments, rock crabs, and flesh crawlers.I personally got 85 strength from a mixture of the 5. I'd train at experiments for a little bit, then move to the next location. When I was low on cash, I'd go to ankous and flesh crawlers.

Option 1 – Ankous (Great place to make money)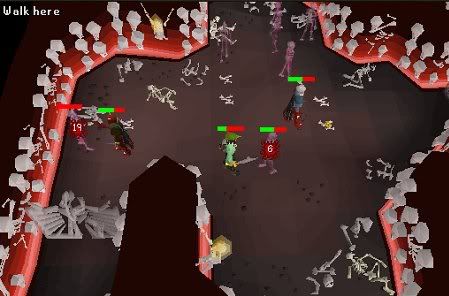 Great place to train if you have high defense. I would recommend wearing barrows armor, or else you will be having a short trip. They drop many death and blood runes, and other good items.

Option 2 – Yaks (Must have completed Fremminik Trials and started Fremminik Isles. They have 50 Hp and are very easy to kill.





Very simple to kill, they are like rock crabs and experiments. You can get up to 50k exp an hour at this place.

Credits go to "Crystalcandi" for this picture. Notice her impressive "30"


Levels
85-99



85-99 This part in the training process is the most fun, and yet it can be the most tiresome. At 85 Strength you can hit incredibly high, but exp to level up for 1 level is intense. You have many options again here.

Option 1 – Bandits (99 strength in 1 month)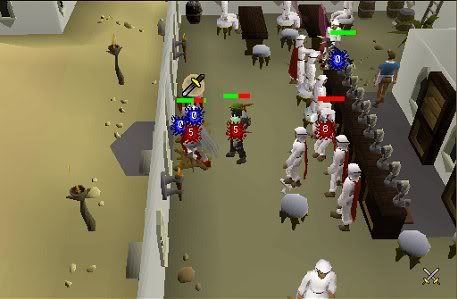 In order to train here, you must be wearing a sara or zammy item. They will automatically come and attack you. Up to 50k exp here. Wear guthans or you can use prayer potions and pray.


Option 2 – Giant Spiders (will get you 99 strength in 1 month also)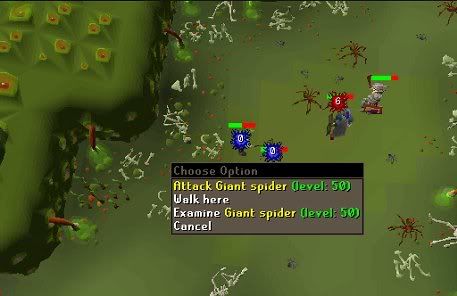 Giant spiders, they are fast spawning, and there are lots of them. They are like yaks, but they can hit. So bring food, or guthans


Option 3 – Monkey Guards in Ape Atoll




In order to train here, you need 43 prayer. You turn your "protect from melee" on. And just destroy the monkeys. You can use strength pray, or which ever pray you want. When you low on prayer, just go to the alter, and recharge your points.

Credits go to "crystalcandi" again for the picture.


If you follow my guide, I will guarantee that you will be able to get any 99 combat skill that your heart desires in less than 3 months. Cheers and happy training!

Quests That Give Combat EXP:



Credits: Kingx Caspen – Creator of the guide | Crystalcandi – Took the Monkey Guard, and Yak picture

FAQ – None at the Moment, if you have any questions post a comment, and I will answer