Training Combat on Ankous
Decent Food

Level 60-70 Defence
At least Rune Armour
Good Drops for Members

Ankous are aggressive monsters that are not only good for gaining EXP on, but also good to gain money from because of their crazy drops.
Getting There:
The biggest challenge in this method is getting to the Ankous. Simply put, they are in the large room right before the Stronghold of Security's 4th level reward box.
First things first, head on over to the Strong Hold of security. You can gain entrance to the place by climbing down a rock at the center of barbarian village.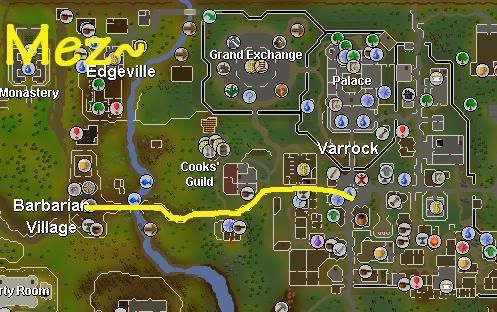 Head down to the 4th and final floor of the Strong Hold and look for the area that comes right before the reward room. Your mini-map should like like this when you are at the right place: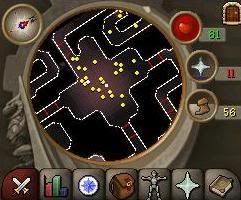 The room itself will be host to a bunch of Ankous and Ghosts. The room will appear to look like this:
Ankous' Stats:
Once you are here, feel free to bash away at the enemies. You can even leave your computer for a few seconds to get something, or to read a book, because they will constantly keep attacking you. A word of warning, they do tend to hit very hard, so its advisable that you keep watch of your character and feed when you are low on HP. Despite the different levels of Ankous, they all have a
maximum hit of 8
. They are good EXP, because they each have 60-72 HP depending on which level Ankou you wish to train on.
Safe Spot:
You can do more than just train Melee on Ankous. There is a safespot shown in the picture below from which you can mage and range them. This will allow you to train up your mage and range EXP without
And the safe spot looks like this: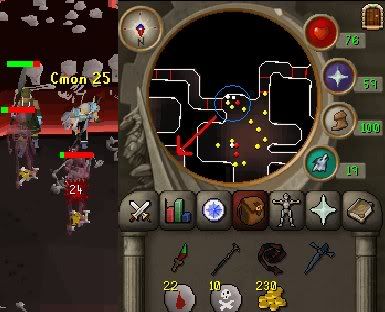 Drops:
Now here's the part that makes you money.
Ankous drop very good items, and they do so quite frequently. They drop 10 Death runes, 5-11 Blood runes (that's this is better on Members), 15 noted essence. These are the things you'll want to mainly keep. There's also noted mithril ores, which are good to collect. If you wish, you could bring a Fire Staff and some Nature Runes for high alcing your items for Mage xp and a profit. And bringing a Chisel would be good as you'd be getting Crafting XP from cutting gems then dropping/high acling/keeping. After each trip, simply go to the Grand Exchange, sell what you wish to sell, restock on food, and good back to the Ankous.
Done effectively, this method can generate
300K

in

under 2 hours
,
and can get you a hoard a combat exp.