Your first million is just around the corner! If you work quick enough, you can get your first million in just a
few hours
! How? By using this second
ultra-secret
method
that the pros are trying to keep hidden.

First things first. To begin, make sure you have at least 400K, or else please go back to the previous section. Use that 400K to buy 4000 Cowhides at the Grand Exchange for about 100 GP ea.
Here is a brief video that goes over the method:
Now with that being said, slap on some sun screen because we're heading to the desert city of Al Kharid!

To enter Al Kharid you need to have 15gp with you, which you will pay as the toll on the front gate which is located East of Lumbridge Castle. Once you have passed the gate, head south until you come upon a small desert city that has a bank.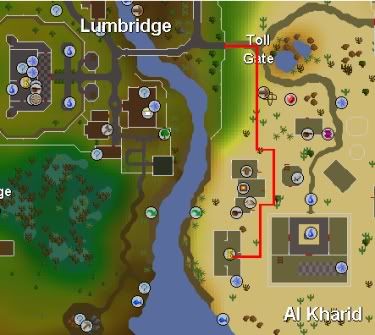 What profits could be made in a hot and dry city like this? Well, read on and prepare to drop your jaw at the next profits table.

Tanning That Hide

Getting to your first million will be a breeze with this little known method
. Basically what you do it buy cowhides, tan them into soft leather, then sell the soft leather at a profit. Its pretty simple, but pay attention to the following details.
Since you already purchased your 4K Cowhides, the process to convert the hides to your first million is on its way. To start off, head to the Al Kharid bank and withdraw a few thousand GP and 27 Cowhides.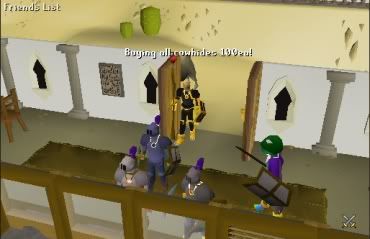 Head North of the bank to the tanner.
Find the Tanner named Ellis and trade him. Right Have him tan all 27 Cowhides into
Soft
Leather
for you. He will charge a few gp for each tan).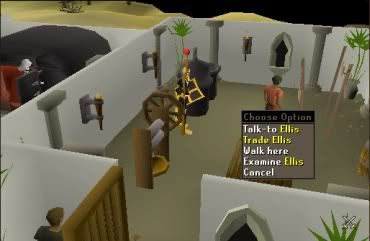 Do this until you have 4k Soft Leather .
Guess what. Each Soft Leather you have is worth 170ea
! Why is it worth so much? Well, it's used to create Coifs, one of the fastest ways to get crafting experience as a member. Members who need a high crafting level tend to not have the time to buy the cowhides and then tan them (which they don't realize takes a little while).
Thats where they lose a lot of money and you make a lot of money
! There are
EXTREME PROFITS
to be made here!!!
4000 Soft Leathers x 170gp ea = 680K
Then use that 680k to buy 6K cowhides. Repeat the process and...
6000 Soft Leathers x 170gpea = 1 MILLION GP!!

Crazy!!!
And it all takes little to no time! You can even continue this to double that first million if you wanted to. As for selling the leathers, they sell like
HOTCAKES
on the Grand Exchange. search for buyers by searching "
Buying Soft Leathers
" under crafting in the Runescape Forums Search Engine. It's best to sell them during the
weekend or in the morning
, as that's the time most crafters decide to buy their materials to keep crafting for the rest of the week/day. Alternatively, you can look on the crafting section yourself and add anyone who has posted they will buy them. Then send them a message in the game and tell them to meet you to buy the leathers.
Work for a while in that desert heat and watch that first million fall into your hands
!