Guide by: P00ner Mage
HD screenshots by: Peterlor3
A lot of players on Runescape not only want to be rich, but also, want to be tough, strong, have good combat skills. Well, not to worry. If you are looking to train, there are still some great ways you can make tons of money along the way! Here are some suggestions on what you can train for certain levels, and how you can make money by training on them at the same time!

1. Killing Men at Edgeville and Getting Their Bones (Level 3-10)
Men are ideal to train on at low levels because they only do a maximum of 1 damage, and have a pretty good ammount of EXP as well. Not only that, but the men in Edgeville (the ones in the barn) are situated very close to the Edgeville Bank (just north of it). This is good not only because you could get food from the bank if you wanted, but also, it serves as a good place to deposit your bones that you get from killing the men.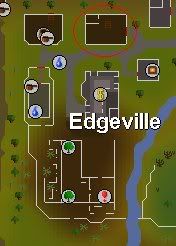 You may be wondering, why should I be getting the bones?
Well my friend, those
bones the men drop are worth
80gp EACH!
With the introduction of the Grand Exchange, the prices for bones have spiked up because it serves as a cheaper alternative to the big bones for people who want to increase their prayer level. So you know that demand for the bones will never run out. All you do is kill the men, getting exp, and pick up the bones. Once your inventory is filled with bones, you just go south of the barn to the Edgeville Bank. Deposit all the bones and repeat the process.
Once you have enough bones (depends on how much you want to sell at a time), head on over to the Grand Exchange. Put up and offer to sell the bones and let the GE take care of the rest. Botta -bing-botta-boom! You now have gold! Lets take a look at how much gold we can expect:
100 Bones x 80ea (price to sell at) = 8,000GP Total from selling all the bones
500 Bones x 80ea = 40,000GP
1000 Bones x 80ea =
8
0,000GP!!
WOW! So not only are you getting TONS of experience for your combat levels, but you are also getting TONS of money!
Once you have reached a combat level of 10, you are ready to proceed to the next thing to train on.

2. Cows Help you "MOO"ve on Up! (Level 15-40)
I regret to inform you that this is an outdated method.
It does not work anymore. Please skip it, or, if you want to see what things used to be like, read it.
Many people in Runescape train on cows during their lower levels, but many fail to realize how much money they could be making while on their training. Some do realize how to make money while training on cows, but fail to pick the one best secret spot to train at.
How can money be made by killing cows, and what is the secret spot to train on them?
Answer: Cowhides and Gnome Copters
Cowhides run for about 120 GP EACH on the Grand Exchange! That means for every cow you are killing, you are receiving 120GP. That can add up especially when you start killing hundreds of cows a day for your training.
Most people don't realize the value of cowhides, and so they just leave them on the floor. However, some people do, and so they choose to train on cows at places like the Fally Cow Barn and the Cow Barn at Lumbridge (the one north of Al Kharid). However, these people run into the trouble of having to travel quite a distance in order to bank their full inventories of heavy cowhides. This has been the only down side to training on cows until the release of the Gnome Copter area.
Here is the procedure you should take to becoming

wealthy

while training your combat on cows!
1. Clear your inventory and head Over to the Gnome Copters Area (North of Draynor Village, East of Draynor Manor)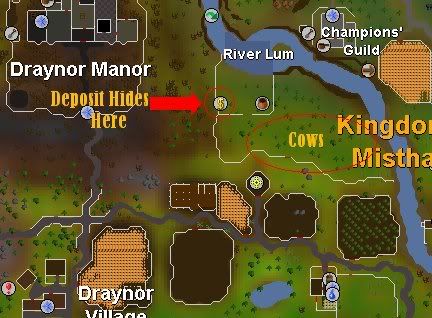 2. Once there, start slaughtering the cows
3. Pick up ONLY the cowhides. If you are training prayer, go ahead and pick up the bones, but don't let them take up space in your inventory.
4. Get an inventory full of cowhides
5. Head over to the deposit boxes
6. Deposit all the cowhides and repeat the process
The Gnome Copters area is relatively new to Runescape, and so the Cow killing advantage there is not known to many. Training here eliminates the need to go far in order to bank the cowhides, ensuring you can train and money money like a machine.

Cowhides easily sell at the Grand Exchange for 120GP a pop, so get almost 1000 cowhides, and thats over 100K!
Idea Contributors:
Blue Pika515



3. Killing Giants Will Make You a Money Giant (Level 40-50)
Now that you are a bit stronger and hopefully have some good armor, or at least can kill fast, it is time to train on Giants. To get to where the Giants are, you need to have a Brass Key, then head over to this little roofed room west of Varrok, near the bridge from Varrok to Barbarian Village.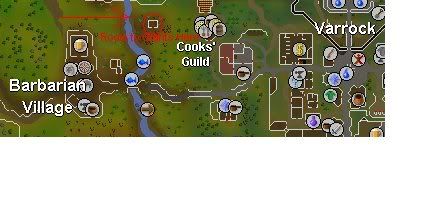 Once there, use the Brass Key with the door and climb down the ladder inside. Welcome to the Giants training Area.

Here you will find tons of Giants that you can train on. They are excellent combat exp, and they have good drops. But what you want to get from them is Big Bones that are worth a unlike anything compared to the last step. Giants drop Big Bones (always) and Limpwurt Roots (sometimes). The Big Bones are worth big bucks, at 410gp EACH! And Limpwurt Roots are worth even more, at 670gp EACH!!! Just getting an inventory full of them is worth good money.

Once you're inventory is filled with Big Bones and Limpwurt Roots, just head east to Varrok, bank the goods, and come back to resume your training/money-making. Then head on over to the Grand Exchange and turn your Limpwurt Roots and Big Bones intro BIG BUCKS (meaning tons of GP)!

If you can kill 1000 Giants, and you pick up the big bone each time, then...

Amount of Big Bones x Price Each = Total Value

1000 x 540 =
410,000GP+!!


And if you were to get the same amount of Limpwurt Roots, then...

Amount of Limpwurt Roots x Price Each = Total Value
1000 x 670 =
670,000GP+!!


Meaning, killing around 1000 Giants and picking up the Limpwurt Roots and Big Bones can make you an overnight millionaire and train those stats! What are you waiting for?

Pro's of training here: Good exp, good money from Big Bones (410gp ea) and Limpwurt Roots (670 ea), and makes more money than the next step about Zombies.

Cons: Usually a busy place, so at times it may get annoying to find a giant to kill, and varrok bank isn't right next to the place.

Personally, if you want to make big money and train your stats, Giants is the place to do it. However, if you want to get more efficient training with the sacrifice of making a little less money, read on about the Zombie Graveyard.


4. The Zombie Graveyard (Level 50-65)
The Zombie Graveyard is a dangerous place located in the Wilderness. Luckily players can no longer attack you in the wilderness, so at least you are safe from them. But there's still the Rev. Ghosts that come out randomly and attack. Not only that, but its a multi zone, so 5 zombies that are level 18-24 can attack you all at once! Its a very dangerous place to be for low level players.
Why then, would this place be the next place to train? What would make this place so worth it? There are planks laying around there that are worth
200GP EA
, thats what! There are a few planks laying around the floor of the Zombie Graveyard, and planks are always in demand by members who need to train their construction levels. So just keep training, and picking up the planks. Its a good training area too, because you can just leave your character there, and the zombies will automatically attack you, so its almost like auto training your combat. Just be careful, because its a multi-attack zone, and multiple zombies can attack you at once (thats why its suggest to be a higher level and have good armor). Once you are done picking up the planks, there's even a convenient place located to bank the planks right next to the Graveyard at the Bounty Hunters bank (just go west of the Graveyard to get to Bounty Hunters). Bank your planks there and repeat the process.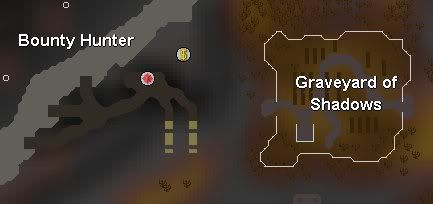 Once you have enough (depending on how much you want to sell, head on over to the Grand Exchange and sell at will. Lets see how much money you can really make out of these planks:

100 Planks x 200ea (price to sell at) = 20,000GP Total from selling all the planks
500 Planks x 200ea = 100,000GP
1000 Planks x 200ea = 200,000GP!!

Pro's of training here: Good exp, never busy, sometimes its like auto training, and bank is nearby to store items.

Cons: Risky because of Rev. Ghosts and planks are not worth as much as the big bones and limp roots the Giants drop.



4. Cockroach Soldiers (Level 65-??)

Cockroach Soldiers drop some of the best items on F2P, and its no wonder that this place always has higher level F2Pers busy with training.

The first thing you must do is complete the Stronghold of Player Safety (located in between Barbarian Village and Edgeville). Once you have completed it, climb down the crevice. You will be at an underground dungeon with tons of different cockroaches. Locate an area with Cockroach Soldiers and begin training.

Recommended Stats
Range Level 70+ (if you choose to Range them)
Attack 40+, Strength 65+, Defence 40+ (if you choose to Melee them)

Range is the easiest and most effective way to kill them since they are weaker against Ranged attacks, and also because your Dragon Hide armor provides excellent defense against their ranged Magic attacks.

Cockroach soldiers have a very high defense against magic attacks, and an average defense against Melee attacks.

Equipment:
Range Set:
Leather or Dragon Hide Coif
Green Dragon Hide Body
Green Dragon Hide Chaps
Green Dragon Hide Vambraces
A good amount of Iron Arrows
Leather Boots
Cape

Melee Set:
Full Rune Set
Fighting Boots (from Stronghold of Security)
Safety Gloves
Rune scimitar
Cape

Inventory:
2-3 Strength Potions for Meleers
Food (preferably Tuna or Lobster)

Tactics
If you are ranging, just go ahead and start ranging. Make sure it's not too close to you or it will start melee attacking.

If you are Melee, drink a strength potion and then begin attacking. Once you see your Strength Level has gone down to 2 levels above the regular strength level, take another sip of the strength potion.

Drops

Here are some of their good drops that will make you a good ammount of money:

Rune Scimitar (somewhat rare)
Rune Square Shield (somewhat rare)
Rune Chain Body (somewhat rare)
1-20 Law Runes (common)
1-17 Death Runes
All Uncut Gems (common)
3 Noted Mithril Ore (common)
1 Noted Adamant Ore
1 Noted Runite Ore (very rare)
So you can see how there is a lot to be made from killing cockroach soldiers. To make even more money from killing monsters, you should consider going members.


Special Thanks to: leapower889



Training Combat For Members World

We are currently working on this section, and we'll definitely have more up shortly.
We'll add more to this page, including pics. If you have any ideas for this page, please email us at:
admin@thersmg.com
If we approve, your idea will star on this page, along with your Runescape Name under it!